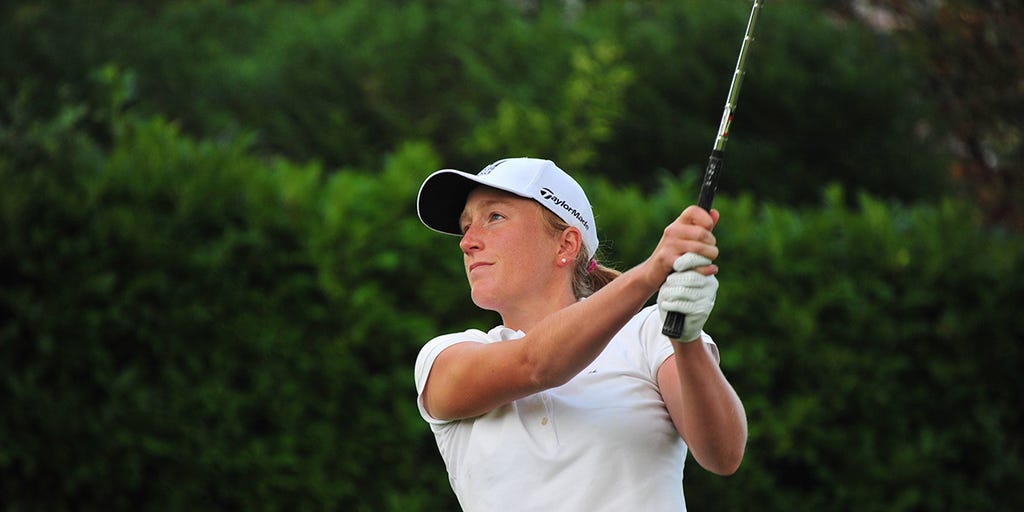 Vitae
Born : 25 Octobre 1985
Home : Chateauneuf-Du-Pape (France)
University : Bsc(Hons) in Physiotherapy 2008-2011 - Plymouth, UK
Master II en Droit Européen. 2002-2007 - Avignon, France
Professional Golfer since 2013
Physiotherapist since 2011
·
My passion for golf
You can't connect the dots looking forward; you can only connect them looking backwards. So you have to trust that the dots will somehow connect in your future. You have to trust in something - your gut, destiny, life, karma, whatever.
Steve Jobs
.
My encounter with golf was the result of 2 events that where tragical for the teenager I was : my parents' divorce that had us moved in the suburb of Avignon close to a golf club and a sports injury at tennis that made me stopped after 8 years of competitive practice. That's where Steve Jobs quote resonnates. You can only make sense of life events after they occur. In the present time you must listen to your heart, believe in your destiny or divine immanence.

I am 15, it is the beginning of summer and idleness prevails. Not for long. A friend brings me to the golf club to hit a few shots on the range. I have an epiphany. There is no air shots, the ball is flying nicely from the start, instant joy! I am 18 hcp after one summer of intense practice, 4hcp after one year and 0-scratch after 2 years. I do not have an amateur career per se. I like golf but university studies are taking over. I do not have any family members or federation that encourage me to pursue a path in the golf business. At age 21, I obtain a LLM in European Law. Still, life does not feel right. After a pilgrimage on the Jacob's way, I embrace a new career as a Physiotherapist with a Bsc (Hons) in 2011. I start working as a physiotherapist in rehabilitation centers and hospitals. I also work as a community phsyio 5 months in Mayotte, a french island in the Indian Ocean. When I am back in mainland France at the end of 2012, I start playing golf again for 3 months. I am registering to the LET QSchool with the curiosity of the child. I go through the prequalifers and fail in the final stage. However the essential is elsewhere. I start my journey as a professional golf player with that idea a bit crazy to write a great story.
2019
5th place at Magical Kenya Ladies Open (LET)
Win of the Verbier Cup - Swiss Pro Series - Mixed tournament
15th Investec SA Womens Open (LET)
18th Jabra Ladies Open - France (LET)
61 at the Order of the Merit on the LET
2018 - Full Card on the LET / Won the Jabra (LET)
31st at the Order of the Merit on the LET
Victory of the Jabra Ladies Open (LET) at Evian (France)
British Open et Evian Championship - 2 Majors played
2nd at Ribiera Sacra in Spain (LETAS)
2017
18th at the LETAS Order of the merit// 8 cuts out of 11 tournaments played on LETAS.
3rd at LETAS Ribiera Sacra in Spain
2nd at LETAS Castellum Open in Sweden
2016
·Victory of Open d'Arcachon
·2nd at LETAS Azores Ladies Open
2nd at Open de Mont de Marsan
4th at LETAS Open de Strasbourg